Working Diligently to teach and promote safe use, regulation and  enjoyment of fireworks throughout kansas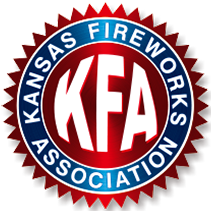 The KFA is the voice of the Kansas fireworks industry; promoting safety in the design and use of all 1.4G (Class C) fireworks. Our members are dedicated to encouraging and promoting fireworks to the public and before the legislative, executive and judicial branches of state and local governments.
Latest News
Rule regarding U.S. 1.4G Consumer Fireworks multi-shot "Cakes"
NFA looks at the obstacles facing the manufacture and export of traditional  UN0336, 1.4G consumer fireworks made for America.
China Production Disruptions
If there is one thing that we can count on to be consistent, it's on-going disruptions with the China supply chain. Unfortunately, we have been advised by  International Director Cindy Cheung that the Shanghai Fireworks Transportation Association for Foreign Trade issued a notice stating that the port of Shanghai will not transit fireworks containers from November 5-11, due to the China International Import Expo.
Proposed Regulation Change
On October 9, the Bureau of Alcohol, Tobacco, Firearms & Explosives (ATF) published an information collection notice regarding proposed revisions to ATF Form 5400.5 – Report of Theft or Loss. 
Board of Directors


Eric J. Garrett
President
President; Garrett's Worldwide Enterprises, LLC (Osage City, KS)

Mike Beck
Vice-President
Fireworks Over America (Odessa, MO)

Daryl Marmon
VP of Legislative Affairs
Display Manager; Wald Fireworks (Kansas City, MO)

Steve Showalter
Secretary/Treasurer
President/Owner; Showalter Fireworks, Inc (Inman, KS)

Laura Basye
Communications & PR
Sales Rep; Winco Fireworks Intl, LLC (Kansas City, MO)

Steve Whitt
Display Vice-President
Display Manager; Wald Fireworks (Kansas City, MO)
Call or send us a message using the form below.